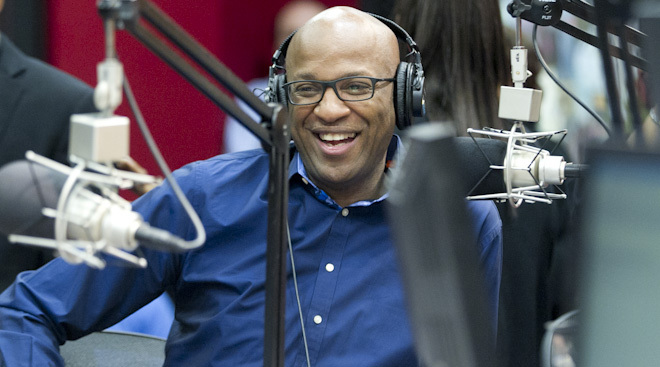 Donnie McClurkin Radio Show Shakes Things Up!
THE DONNIE MCCLURKIN RADIO SHOW SHAKES THINGS UP IN THE MORNINGS BY MOVING INTO THE #1 SPOT IN NEW YORK AND PHILADELPHIA
McClurkin Launches Online Television Show Donnie NEXT to Create Platform for New Artists – First Show Set to Tape at B.B. King Bar & Grill in Times Square on March 15.
Los Angeles, CA (February 24, 2015) – According to the recent January Nielsen radio ratings report sourced against adults in the key 25-54 age demographic, it's fairly obvious that Gospel recording artist Donnie McClurkin is changing the way people listen to morning radio. T&T Creative produced award-winning Donnie McClurkin Show, syndicated by Oceanic Tradewinds/Westwood One, sent a shockwave throughout the entire radio industry with historic results in two of the nation's biggest radio markets, New York and Philadelphia by snagging the #1 spot!
"Pastor Donnie McClurkin has been truly a blessing to our airwaves. He is the #1 radio program in its timeslot of 5a to 6a in the entire New York radio market. The feedback from our listeners is always positive. They are always asking for more content from him", says Skip Dillard, Operations Manager, WBLS, New York.
McClurkin's morning show on Emmis-owned WBLS scored a 12.7 share, beating out the popular WINS News that landed a full share behind with an 11.4 rating. This is quite a feat for a faith-based show. In Philadelphia on iHeart Media owned WDAS, McClurkin scored a 12.9 rating in December for another #1 landslide victory.
Also weighing in on the success of TDMS is Derrick Corbett, Director of Urban Programming iHeartMedia/Philadelphia, "Pastor McClurkin has been a big part of the WDAS Morning Presentation in preceding the Steve Harvey Morning Show for almost 7 years now. His numbers show that the focus of faith and family isn't lost with this audience, and is a testament to his positive message and the spirit of the music that's played within that hour."
Charles Steinhauer, Westwood One COO, said "Donnie McClurkin continues to be recognized as one of the most dynamic and engaging personalities on radio today. It is a pleasure for Westwood One to be able to bring such a powerful star to the advertising world."
TDMS turns nine this year and doesn't appear to be losing any steam, but growing more popular as his social media family continues to build beyond a collaborative three million mark. TDMS can be heard in 60 plus markets and has over 5 million listeners with international audiences in London, Jamaica and the Bahamas.
"The Donnie McClurkin Show has done so wonderfully in reaching #1 in New York and Philadelphia in its' radio time slot. I'm thankful that this show can reach so many across the country and around the world, and give them great music that inspires them in the course of their day to this degree. We're reaching millions and looking to reaching millions more!" says McClurkin.
"For us the Donnie McClurkin show is one of the biggest shows we have on the station. It's important to us and helps us to maintain our position as the number #1 gospel music station in the UK," states Muyiwa Olarewaju/ Station Director Premier Gospel.
On Sunday, March 15 at 7pm, McClurkin ventures into new territory when he launches his online television show that is designed to showcase the next generation of powerful music ministers. Donnie NEXT set to tape at B.B. King Bar & Grill located at 237 West 42nd Street in Time Square (212) 997-4144 will feature live performances, interviews and an opportunity for audience and viewers to participate in real-time voting during the "Listener's Choice" segment. The taping is open to the public and tickets $20/$25 day of show can be purchased at www.bbkingblues.com. Donnie TV will also be expanding to other cities throughout the year.
Follow Donnie on Twitter: www.twitter.com/donnieradio / Like Donnie on Facebook: www.facebook.com/donniemcclurkin or www.facebook.com/thedonniemcclurkinshow
For station affiliation info, contact Gary Bernstein at 508-245-1776 or gary@oceanic.such.website. www.oceanictradewinds.com
###