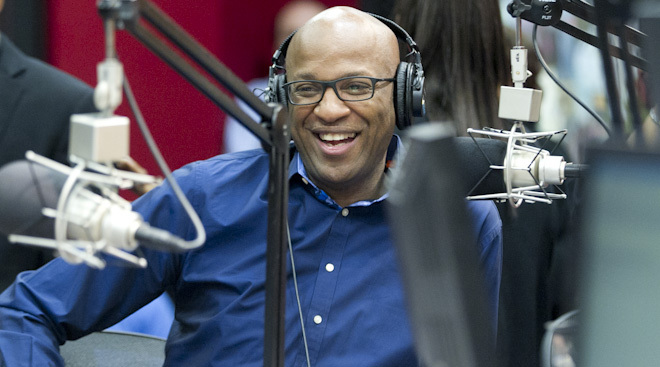 Donnie McClurkin Scores Big Ratings in Major Markets
To be a #1 show and be Urban is close to impossible. To be a #1 show and be Inspirationally-formatted, well that is not supposed to happen given the obvious hurdles that any niche format has to deal with in this new ratings world. Well, enter a radio program and case study that has defied all odds.  
In New York City, Donnie McClurkin, according to the July Nielsen PPM ratings for adults 25-54, scored a 12.5 share on Emmis-owned WBLS 5a-6am, beating out the popular WINS News which was almost 2 full share points behind with a 10.9 rating. This was also the highest rated hour on the entire radio station.  WBLS/WLIB Opeations Manager Skip Dillard says,"Pastor Donnie McClurkin has been truly a blessing to our airwaves. He has the #1 radio program in its time slot in the entire New York radio market . The current ratings are the highest that I  have ever seen. Donnie is number one by a large margin because it is a great show.  People know it is there. They wake up to it  and set their alarms to it every morning and it is obviously having a great impact. The feedback from our listeners is always positive. They are always asking for more Donnie."  
In Philadelphia on IheartMedia owned WDAS, Donnie scored a 10.1 share in July for another #1 ranking.  Derrick Corbett, Director of Urban Programming of IHeartmedia Philadelphia says, "Pastor McClurkin has been a big part of the WDAS Morning Presentation in preceding the Steve Harvey Morning Show for almost 7 years now. His numbers show that the focus of faith and family isn't lost with this audience, and is a testament to his positive message and the spirit of the music that's played within that hour."  
This ratings dominance exists in all market sizes. WWDM in Columbia, South Carolina records a #1 ranking with a 26.1 share. WVKL in Norfolk, Virginia is also  #1 with Donnie at a 16.3 share.  
Gary Bernstein, the builder of many of the biggest urban brands ( Wendy Williams, Rickey Smiley, Yolanda Adams, Russ Parr, Walt "Baby" Love, CoCo Brother, the Baka Boyz ) , weighs in on what makes Donnie unique. " 
He cares more about others than he does about himself. Donnie is truly here to serve his audience with such humility and class.  I don't think he even understands how great of a radio personality he has become. Donnie combines inspiration, humor, star-power, and authenticity in a powerfully compelling PPM friendly format. Due to demand, we had to increase the number of programming hours for both weekdays and weekends.  
McClurkin's program recently has expanded to the overseas markets of London, Jamaica, and the Bahamas, and syndicator Gary Bernstein, President of OceanicTradewinds Media, has also informed us that the entire continent of Africa is the next territory to be embracing Donnie. The program is produced by T%T Creative and distributed by Westwood One. You can contact Gary at gary@oceanic.such.website or 508-245-1776. or check out www.donniemcclurkinepk.com
SOURCE:http://www.radiofacts.com/donnie-mcclurkin-scores-big-ratings-in-major-markets/