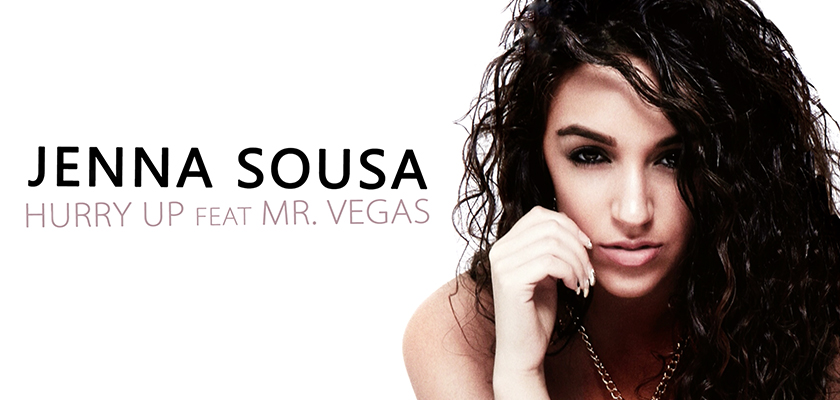 Jenna Debuts "Hurry Up" & "Did That"
DJ Pup Dawg is finally giving us the first single off his highly anticipated DJ compilation album! It features Dancehall powerhouse artist Mr. Vegas joining forces with 17 year old singer/ songwriter Jenna Sousa on "Hurry Up", a fierce track produced by radio legends, the Baka Boyz.
Jenna Sousa is one of the most sought after,unsigned artists in the world. You can see her writing, rapping, and just a slice of her singing talents on "Hurry Up" which Jenna had originally penned for another artist. However, even though very different from her characteristic sound, several radio stations demanded the release of the Jenna Sousa version, so there you have it! View "Hurry Up" below.

At the same time, Jenna will also be releasing her song "Did That" produced by Grammy-nominated Keyz, featuring up and coming Chicago rapper, The Boy Illinois. The latter is more in line with Jenna's typical fusion of urban, pop, and R&B. Stream "Hurry Up" below:

To discover more about Jenna, you need "Hurry Up". She has been working in the music industry since the young age of 12, where she was signed to legendary rapper Krayzie Bone of Bone Thugs and Harmony. As an independent artist, Jenna also moved on to be in the top 5 of celebrity vocal coach Kuk Harrell's internet search.
Jenna was also recently featured on EDM Bassnectar's song "The Future' which she both wrote and performed on. Jenna is currently in the studio working on her debut album. Now, it won't surprise you that the Rhode Island native won 27 consecutive talent competitions while growing up in the Ocean State. With her song "Hurry Up" as well as many other songs to follow, this teen is certainly one to watch! To get a taste of her vocal talent, watch below to see a singing impressions video in which she impersonates 15 of the top artists in the world.

Get it on iTunes – click  here