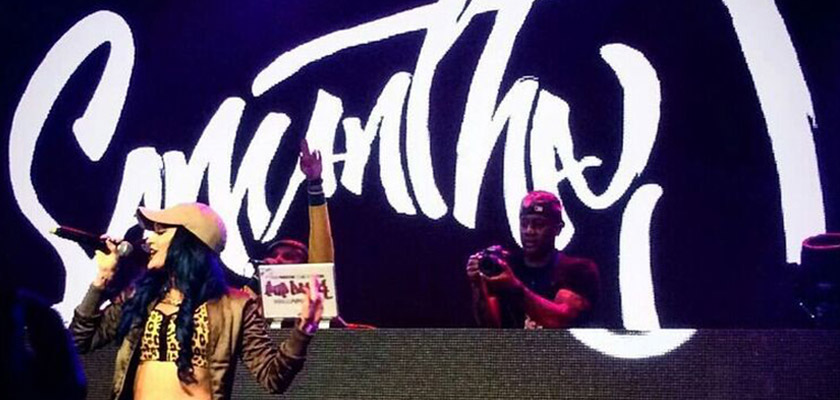 Samantha J Canadian Tour with Sean Paul SOLD OUT
Columbia Records / Oceanic Tradewinds Recording artist Samantha J recently joined Grammy Award winner Sean Paul on his 'Full Speed' Canadian Tour, playing to sold out shows all over Canada. Taking a break from recording her debut album, Samantha performed in front of thousands every night in what quickly became the hottest ticketed tour across Canada. Samantha was joined on stage by her selector, iHeartRadio's DJ Pup Dawg.
"It really felt like a family working with Sean and his team… traveling from city to city through the cold weather with great people. I got the chance to perform for my J's across Canada and make new fans aswell, we mashed up the stage with my selecta DJ Pup Dawg. The Full Speed Tour has been a blessing," said Samantha J of her performances across Boisbrand, Montreal, Toronto, Hamilton, Guelph & London.
DJ Pup Dawg: " The love we've been getting has been AMAZING! Thank you Sean Paul & his team for bringing us on this journey with you."
Sean Paul added, " Real Talk, I've been watching her career and movement for years, It's a proud moment I could present her. We're going to be doing more work." He continued, "I'm going to miss her."

Follow Oceanic Tradewinds for more tour content exclusives being posted soon!
Instagram: https://instagram.com/oceanictradewinds/
Facebook: https://www.facebook.com/OceanicTradewinds/
Twitter: https://twitter.com/oceanictradewds

Also, be sure to follow Samantha J on:

Instagram: http://instagram.com/samanthajlive
Facebook: http://facebook.com/samanthajlive
Twitter: http://twitter.com/samanthajlive