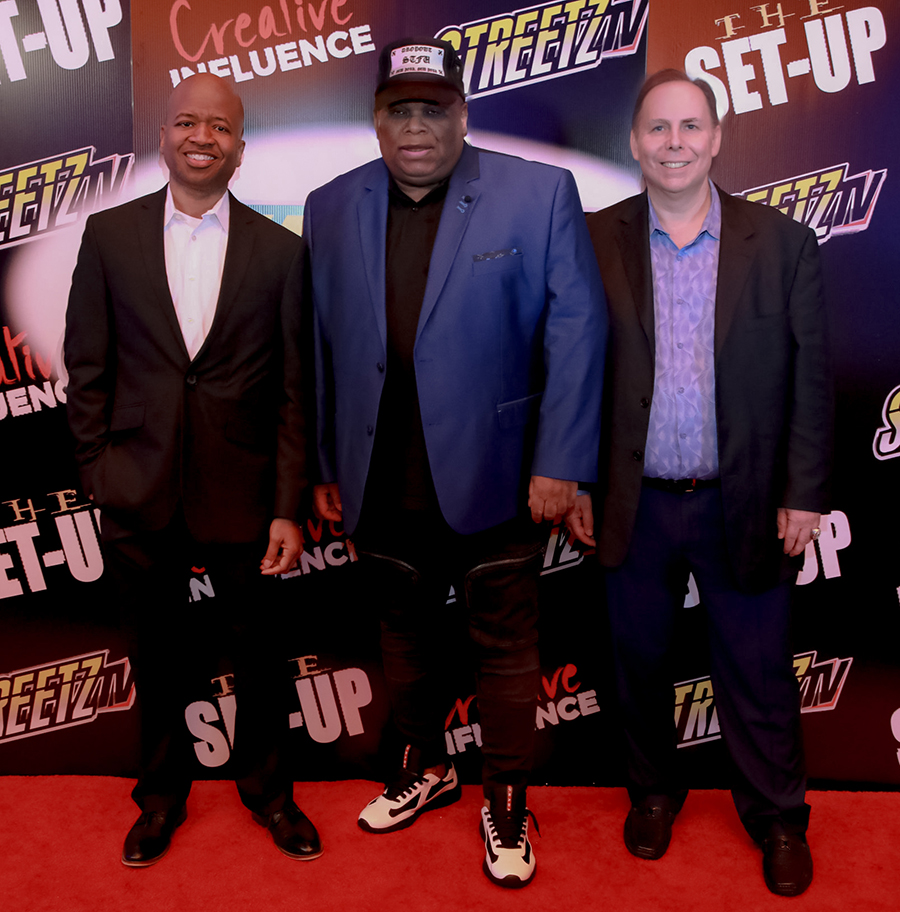 StreetzTV Partners with Creative Influence to Launch 24-hour Video Network 
ATLANTA, GA  March 29,  2023 — StreetzTV, the fresh new 24-hour Hip-Hop and Lifestyle Video Network, officially launched with a star-studded party in Atlanta, GA at Atlantic Station's Regal Cinemas. Built as a new destination point for creative and pioneering independent content and content creators, StreetzTV is the brainchild of pioneering media mogul Steve Hegwood, founder of Streetz 94.5 Radio and its affiliated Yung Joc hosted Streetz Morning Takeover Radio Network.
Steve Hegwood says, "I'm extremely pleased to transition the growing Streetz brand into video/digital content giving independent content creators a dynamic new platform where they can live and grow."
Creative Influence, the Atlanta-based ad agency founded by veteran media executives Johnny Dixon and Gary Bernstein, spearheaded the event and are strategic partners in the StreetzTV enterprise. Gary Bernstein says, "We will be creating, partnering, and looking for the most creative and cutting-edge video programming appealing to the youth and adult demographics. With the combined promotional multi-media assets of Streetz Radio, StreetzTV, and other soon to be announced strategic partnerships and collaborations, we have the perfect environment for the next dynamic group of superstar content creators looking to amplify their creativity."
StreetzTV has distribution on ROKU-TV and AppleTV with access to over 55 million active accounts. Noteworthy network content additions will be announced in the coming weeks. Submissions need to be sent immediately to streetztvworldwide@gmail.com.
ABOUT CREATIVE INFLUENCE
Creative Influence is a forward-thinking Atlanta-based ad agency famous for its incorporation of media/ radio personalities and social media influencers within its media planning. Founded by advertising/ entertainment executives Johnny Dixon and Gary Bernstein, Creative Influence uses its unique and deep personal relationships with talent and media companies to craft next-level one-of-a-kind memorable marketing /ad campaigns for its clients typically including personal endorsements and event activations. Some of their Atlanta-centric roster includes Streetz TV, the Uptown Comedy Corner, Frank Ski, Monie Love, Mz Shyneka, The Frank Ski [syndicated] Show with Nina Brown, Special K aka Black Tony, DJ Mami Chula, JR Jackson/ JRSportBrief, Ralph Tresvant, Rick Party, Donnie McClurkin, Sasha the Diva, Jekalyn Carr, and Collab Studios. Johnny Dixon is also owner of A John Wayn Productions and Gary Bernstein is President of Oceanic Tradewinds and Managing Director of Klik Events.
#   #   #
 MEDIA ASSETS:
WEBSITE: http://streetztv.com/
INSTAGRAM: https://www.instagram.com/streetztvworld/
Photo: Creative Influence's, Johnny Dixon (L), Gary Bernstein(R), and Steve Hegwood, Founder of StreetzTV attending the StreetzTV launch party at Regal Cinemas, Atlantic Station, Atlanta, GA (February 1, 2023) credit: JustinKasephotography.com