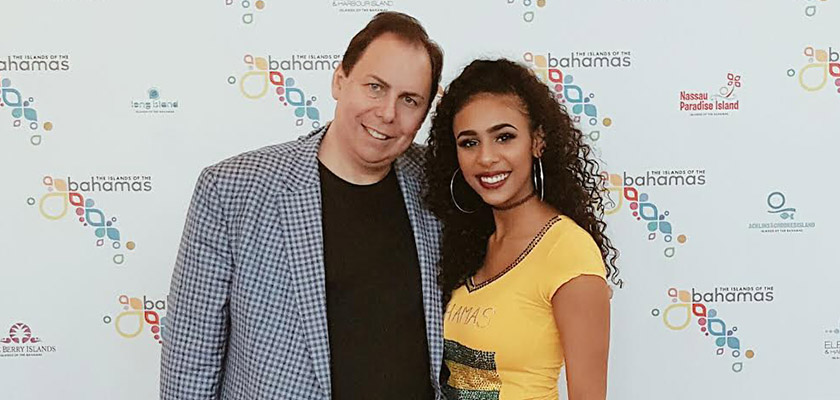 Bahamas Pop Princess Angelique Sabrina And Gary Bernstein Attend Ministry Of Tourism Event In Los Angeles
Island Pop singer, Angelique Sabrina, recently moved to Los Angeles from the Bahamas and has been on the fast track since arriving in Hollywood.
Just days ago, she performed in Los Angeles in front of top Bahamian Government officials, travel and hotel agents, and other influential parties impacting Bahamian tourism. During the exclusive event, Angelique performed a selection of new songs to rave reviews from all in attendance.
While in the Bahamas, Angelique received lucrative endorsement contracts, including many of the Cable Bahamas campaigns and given the new moves in her career, both in acting and music, it seems likely that the 18-year-old's success will reach new heights.
Angelique Sabrina has been in the studio with the legendary super producer Red One (Grammy Award producer for Lady Gaga, J Lo, Nicki Minaj, Pitbull, etc.), Drew Ryan Scott, Don Corleon, and Clayton Williams.
For Angelique's acting career, she is currently managed by Edie Robb's Station Three Entertainment and Stewart Talent, while on the music side, is managed by White Ocean Entertainment.
White Ocean Entertainment is owned by Gary Bernstein, and Angelique's father and music producer, Gregg White (who originally signed Arrested Development). Gary Bernstein also heads Oceanic Tradewinds (home to Columbia Recording Artist Samantha J and emerging singer, songwriter Jenna Sousa), which also manages Frank Ski, Donnie McClurkin, and the Baka Boyz on the radio side.

Follow Oceanic Tradewinds for more news!
Instagram: https://instagram.com/oceanictradewinds/
Facebook: https://www.facebook.com/OceanicTradewinds/
Twitter: https://twitter.com/oceanictradewds
Also, be sure to follow Angelique Sabrina on:
Instagram: https://www.instagram.com/angeliquesabrina/
Facebook: https://www.facebook.com/AngeliqueSab/
Twitter: https://twitter.com/angeliquesab