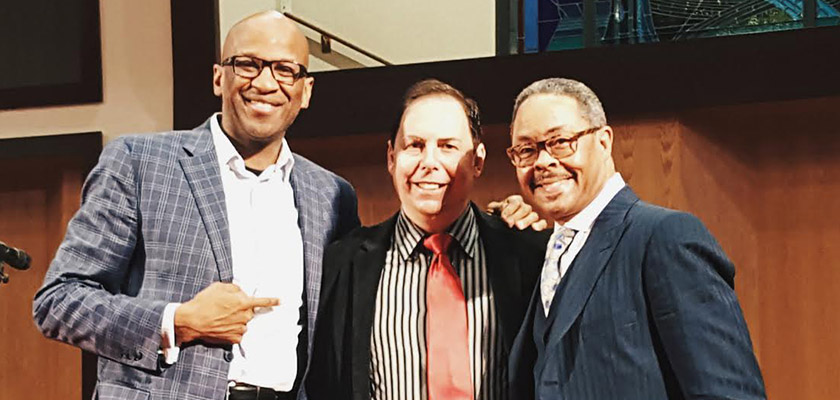 The Donnie McClurkin 10 Year Anniversary Radio Tour Kicks Off At Enon Tabernacle Baptist Church In Philadelphia, PA. (May, 2016)
Los Angeles, CA (May 9, 2016) IHEART Radio's WDAS joined Donnie McClurkin for the kick off of his 10 year Anniversary radio tour. Over five thousand people attended a powerful night of celebration, praise and worship, and the presentation of the "Heart of Gold" to a member of the WDAS/Enon community. In attendance was WDAS's midday Diva Patty Jackson, Enon Senior Pastor, Dr Alyn E. Waller, and Oceanic Tradewinds President Gary Bernstein who presented the Heart of Gold winner to Enon Choir member Janice Jackson.
The audience was shown video clips covering some interesting history from The Donnie McClurkin Story, and equally blessed when Donnie sang new songs from his upcoming release on RCA Records. McClurkin was accompanied by the fabulous Enon Choir under the musical direction of Garland "Miche" Waller.
"I'm thankful that this show can reach multitudes across the country and around the world, providing great music and information that inspires listeners to this degree. We're reaching millions and looking to reach millions more and I am so thankful for the WDAS and Enon families for all their support," says McClurkin.
The Donnie McClurkin radio program airs on WDAS before the Steve Harvey show weekdays from 5a-6a and has been consistently in the top 3 adults 25-54 with many months being the market leader with double digit ratings. The program also airs in 75 other markets across the country and has historically been number #1 rated in many leading markets including New York, Philadelphia, Norfolk, and Columbia, South Carolina. Donnie's Anniversary Tour will continue to Knoxville, Shreveport, Baltimore, New York, Cincinnati, Richmond, Charlotte, Atlanta, Montgomery, Indianapolis, Norfolk, Chicago and Detroit.
The Donnie McClurkin radio program is produced by T & T Creative and is syndicated through Gary Bernstein's Oceanic Tradewinds and Westwood One.