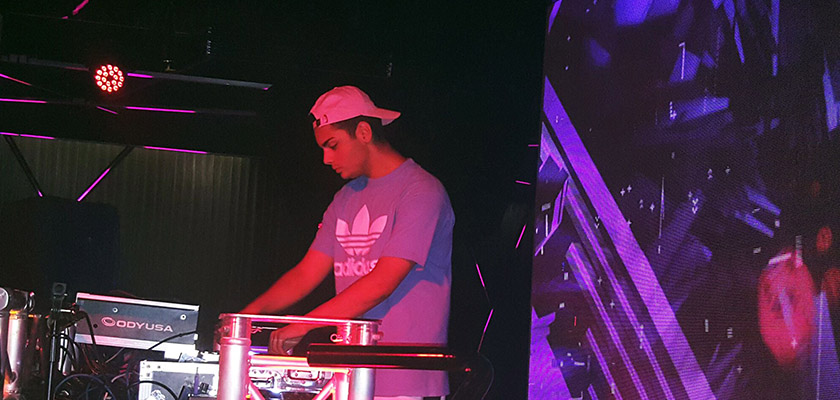 Josh Bernstein Takes Atlantic City
Josh Bernstein has had a major couple past days! The budding EDM producer/DJ was invited to speak and perform at the annual DJ Expo in Atlantic City, where more than 6,000 paid attendees were present (mobile + club DJs, radio programmers, labels, musicians, artists, etc.) and major DJ equipment and technology manufacturers exhibited to unveil their latest tech.
While at the DJ Expo, Bernstein was selected as a featured speaker on a panel of industry heavyweights discussing remixing and producing. Bernstein's selection to speak at this high-profile event comes right on the heels of his remix of RedOne's "Don't You Need Somebody" being picked up by Warner Music and featured on the biggest radio programs in the world including Hollywood Hamilton's Remix Top30 Countdown, which airs to over 6 million people per week via iHeartRadio and Premiere Radio Networks on FM radio.
Bernstein also played at numerous after parties at the Taj Mahal Hotel & Casino, where his set brought the large industry crowd to a fever pitch as he mixed a high energy club set. Not to mention replacing Alesso alongside the iconic duo Cash Cash, and sharing the stage with super producer RedOne and Samantha J!
Here are some highlights from Josh Bernstein's three-day stint at the DJ Expo:
– Josh Bernstein replaced Alesso, after the latter was unable to make his scheduled appearance. This led to Bernstein sharing the stage with Cash Cash for a memorable set. (Watch The Performance Here!)

– WKTU radio legend and host of the Weekend Remix Top30 Countdown Sean "Hollywood" Hamilton congratulated Josh Bernstein after his set at the opening night party of the DJ Expo, and posed for a number of pictures with him.

– Chris Casino became a fan of Josh Bernstein after watching his set at the opening party.

– Josh Bernstein joined RedOne & Samantha J on stage as Samantha performed a number of her hits, both old and new.

– Josh Bernstein was an expert panelist on the Remixing/Producing panel hosted by DJ Times Magazine's editor Jim Tremayne.

– From enemies to friends, Public Enemy's Keith Shocklee hosted a Tuesday night party with Josh Bernstein sponsored by Peavey Electronics at Scores Nightclub.

– DJ Skribble and Josh Bernstein teamed up to close out the DJ Expo with a memorable after party, capping a week of three separate performances and a speaking engagement!