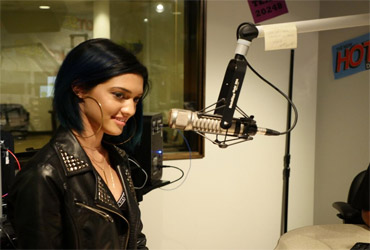 Samantha J Hits the West Coast & Tours Texas!

No doubt Samantha J was on the move this summer… shes definitely having a blast!The Jamaica n beauty hit the road, kicking things off on the West Coast stopping in Bakersfield and Fresno California. From there, Samantha also toured Palm Springs where she was interviewed at the local radio station U 92.7 and later performed at Copa Nightclub on August 7th. The singer posted on her instagram account @samanthajlive – "Great time performing in Palm Springs this weekend ! So grateful to be doing what I love with a team that feels the same!" She later tweeted, "#flashback to copanightclub Palm Springs. Can't wait to perform for you guys again!"

Samantha was also in Texas recently where the 'League of my Own' singer made stops in Austin and McCallen, where she did several interviews, signed autographs and took quite a few selfies with fans. She even toured Corpus Christi, visiting the waterpark, where she performed some of her hit songs for the audience at Hot Z 95's Summer event. Samantha J met American singer Pia Mia and also linked up with superstar rapper and singer, Dej Loaf of whom she did her hit, 'League of My Own" collab with earlier this year. Samantha J is definitely on the move…look out!