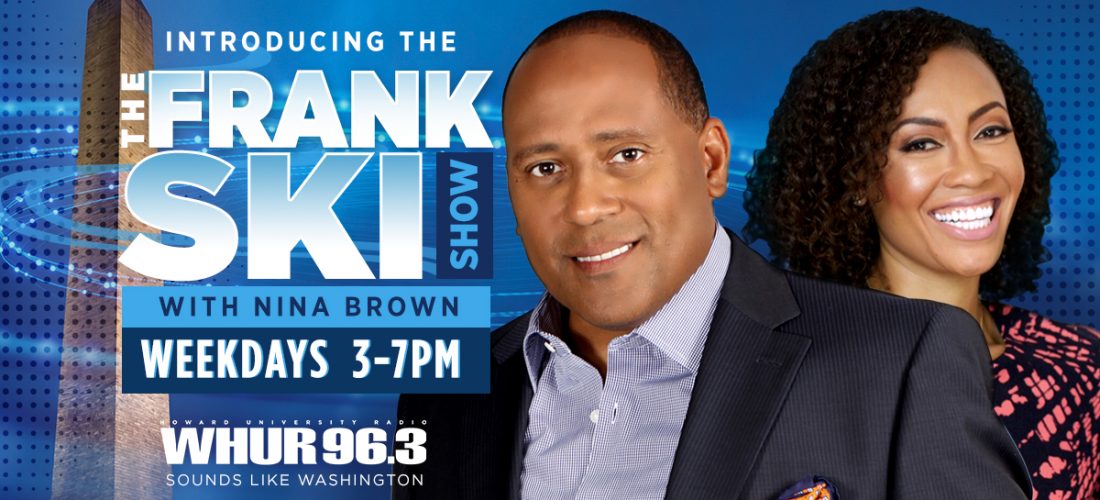 'THE FRANK SKI SHOW WITH NINA BROWN' Takes Over WHUR Afternoons
SOURCE: http://whur.com/whur/the-frank-ski-show-with-nina-brown-takes-over-whur-afternoons/
WASHINGTON, D.C. (Thursday, July 30, 2020) – Legendary radio personality Frank Ski is bringing his widely popular radio show to the DMV taking over afternoons at 96.3 WHUR. "The Frank Ski Show with Nina Brown" airs weekdays from 3 pm to 7 pm starting Monday, August 3.
"The Frank Ski Show with Nina Brown" show will deliver up-to-date commentary on trending headlines, entertainment news, and all things important to the Black culture while providing fun, edgy, and interactive engagement. Known for their ability to connect with the audience on relevant issues with transparency, Ski and Brown are a force to be reckoned with on-air. The pair promises to provide just the right mixture designed to inform, inspire, and entertain.
"Connecting to the Washington, DC listeners is extremely important to me during this challenging time in our history," said Ski.
Ski is no stranger to the DMV. He began his radio career in the District in the early 1990s before moving on to Baltimore and then to Atlanta and back to DC for a stint at WHUR in 2013. Brown has worked in radio and television for nearly two decades and has produced several of Ski's #1 rated radio shows.
"Frank Ski has dominated ratings and has an incredible legacy of community enrichment wherever he is on the air. He is a media icon and adding his name to WHUR once again completes our DMV Dream Team," said WHUR Program Director Al Payne.
The addition of the "Frank Ski Show with Nina Brown" to WHUR's weekday line-up takes the programming line-up to a whole new level. WHUR's weekday programs also include, "The Steve Harvey Morning Show" from 6 am to 10 am, "Autumn Joi's Live Squad" from 10 am to 3 pm, "The Daily Drum with Harold Fisher" from 7 pm to 7:30 pm, and "The Original Quiet Storm with John Monds" from 7:30 pm to midnight."
"Now more than ever, it's crucial to have knowledgeable trustworthy voices on the air. Frank and Nina have a proven track record of success and adding them to the WHUR team is a huge win for us," said WHUR General Manager Sean Plater.