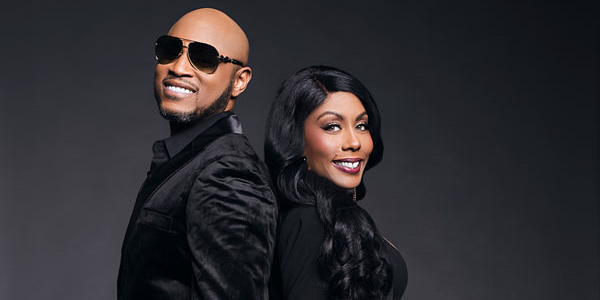 NATIONALLY-SYNDICATED SHOW RICK AND SASHA DEBUT AT THE COMEDY STAGE IN ATLANTA
January 7, 2019 – Renowned radio broadcast personalities Rick Party and Sasha the Diva recently took the stage at the Atlanta Comedy Theatre, along with headlining comedian Shuler King, and announced their syndication deal with Westwood One to present a new Urban/Urban AC morning show. Rick and Sasha, which debuts today, January 7, is airing on more than 20 stations nationwide, with more to come.
Click here for the exclusive footage!
Sasha the Diva, who has been off the airwaves of Kiss 104 in Atlanta for a couple of months and very much missed by her fans, received a huge ovation from the crowd at the Atlanta Comedy Theatre. The evening's headlining comedian, social media comedic superstar/Funeral Director Shuler King, also announced his participation on the upcoming national show to the crowd's approval. Rick Party, who resigned recently from Cox's Hot 105 in Miami to pursue syndication, joined the team on stage as Shuler teased their upcoming mega syndication platform.  We hear that the Rick and Sasha show will be based in Atlanta or Chicago, but no affiliates were mentioned in those markets so we can only speculate. Both Cumulus and Cox have Urban stations in Atlanta while Entercom, iHeart, and Crawford have sticks in Chi-town. Sasha the Diva is sitting out a non-compete in Atlanta and the team reportedly will be back on the airwaves there on an unannounced station in March.  Rick Party, who has radio roots from both Chicago, Atlanta, and many other cities, including New York City, was recently in Chicago hosting a skate party attended by hundreds of fans as well as station execs from several companies.  Referencing and paying homage to original flyjock Tom Joyner on stage, could the Rick and Sasha program be following in his footsteps with both Chicago and Atlanta as flagship bases? (Note: Joyner did radio shows previously from Atlanta and Dallas; hence the name "flyjock").
The national Rick and Sasha launch is one of the biggest in Urban radio history with 20 radio markets already claimed, including an unknown station in Atlanta, KMJK-FM Kansas City, KMEZ-FM/New Orleans, WDLT-FM Mobile, WRRX-FM/Pensacola, and WLXC-FM Columbia SC, just to name a few. We hear an announcement from Chicago is imminent.
Rick and Sasha is being billed as a complete facelift of the Urban AC format with a newness and freshness that seems desperately needed given the format's current state. The show is being produced with and without music, allowing for local customization as well as other formats, like "throwbacks" and dayparts outside of AM Drive .
Armando Rivera, a former programmer at WVAZ/Chicago as well as former OM for Radio One's cluster in Detroit (Noteworthy: his Urban AC beat the iHeart competitor there for 12 consecutive months) is now an Urban consultant for Townsquare Media and other companies. He weighs in on the current state of Urban AC radio. "Urban AC Radio can't be locked in with what worked 20 years ago. A person who was 20 in 1998 is now 40 years old, and like everything else, the format needs to evolve and adapt.  Right now, the new is 'Rick and Sasha'. I don't see anyone outside of them who can take the mic and execute successfully while also adapting to where Urban AC radio needs to be at this time."
Also at the Atlanta Comedy Theatre was Tanita Myers, newly-named Rick and Sasha show Executive Producer and head of Production/Operations. Myers spent the last 14 years at Reach Media, most recently as Senior Director of Operations.
Oceanic Tradewinds President Gary Bernstein, Rick and Sasha's co-creator and builder of many of the most recent Urban syndication success stories (Rickey Smiley, Russ Parr, Wendy Williams, Donnie McClurkin, Yolanda Adams), boldly predicts why the team on stage will be headed for massive success. "Rick and Sasha stand out because they have the youth and talent combined with the hustle and the grind. They are both real radio pros, but they are also REAL PEOPLE with layers and depth that everyone can relate to. Their lives are an open book, which is big when authenticity and relatability is everything these days. They take customer service and community to a whole new level while delivering on fun and lots of meaningful and memorable content. This a big win for the listeners and Urban AC radio as a brand."
For more from Rick and Sasha, click here.
Contact
Neal Bird, nbird@westwoodone.com or (310 ) 840-4207
Gary Bernstein, gary@oceanic.such.website or (508) 245-1776.
[NEWS SOURCE: https://www.urbaninsite.com/news/urbaninsite-com-exclusive-rick-party-sasha-launch-nationally/]