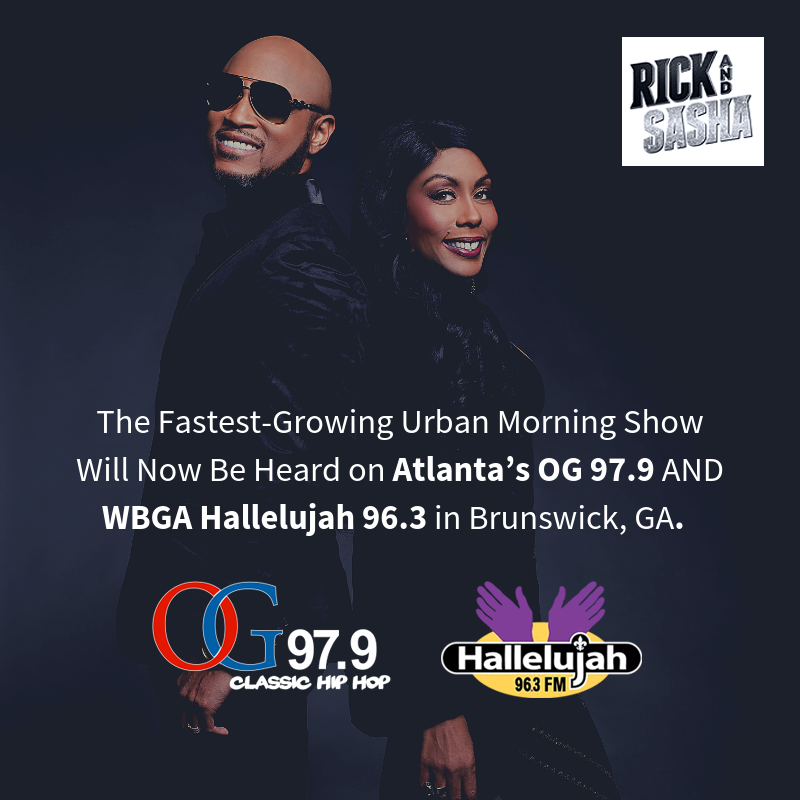 URBAN AC MORNING SHOW "RICK AND SASHA" ADDS TWO GEORGIA STATIONS
April 10, 2019 – Westwood One, the largest audio network in the U.S., proudly announces that Rick and Sasha, its new Urban AC morning show, has added two Georgia stations to its growing roster of affiliates – CUMULUS Atlanta's OG 97.9 and iHeart's WBGA-AM/Hallelujah 96.3 in Brunswick.
Both Sasha the Diva and Rick Party return to the airwaves in Atlanta, where they were both perennial ratings and revenue leaders. Sasha most recently held the afternoon post on Cox's WALR where she was also Cox's #1 revenue billing talent. Party worked in the market previously at V-103.
"Atlanta's the most competitive Urban market in the country, so we needed a program with a knock-out punch. Rick and Sasha is layered daily with great content, creativity, and star power," said Louie Diaz, VP, Top 40/Rhythmic Top 40, CUMULUS MEDIA. "Living and breathing their 'real people, real radio' moniker, Rick and Sasha bring OG 97.9 an incomparable mix of informative and authentic entertainment and comedy. No one works harder and performs better than Rick and Sasha."
Yolanda Neely, PD of Hallelujah 96.3, adds "I am excited about bringing on a real morning show that will engage listeners. Rick Party and Sasha the Diva are regular people who my community in Brunswick, Georgia can relate to. Rick and Sasha are real radio pros who come from humble beginnings and who know their business. They have been doing it their entire lives with excellence, humility, and hard work. This is a recipe for greatness in these times!"
Rick and Sasha, which launched nationally on January 7, 2019, is taking the broadcast world by storm and is already the fastest launch of an Urban syndicated product in recent history. The program features two of the most popular Urban voices in the country — former Hot 105 FM/Miami personality Rick Party and former Kiss 104.1 FM/Atlanta personality Sasha the Diva. The duo entertains and engages Urban AC listeners looking for great music, hot conversation, a connection to community, and interactive discussions.
The morning radio show, which airs from 6 – 10 am ET/5 – 9 am CT, can be heard on more than 15 stations nationwide with more to come, including KMJK-FM/Kansas City, KMEZ-FM/New Orleans, WDLT-FM/Mobile, WRRX-FM/Pensacola, and WLXC-FM/Columbia, SC.
The program is offered both with and without music and is perfect for any Urban infused format including Urban AC, Classic Hip Hop, or Throwback, Urban Contemporary, or Gospel.
For more from Rick and Sasha, click here.
Contact
Neal Bird, nbird@westwoodone.com or (310 ) 840-4207
Gary Bernstein, gary@oceanic.such.website or (508) 245-1776.
[NEWS SOURCE: https://www.westwoodone.com/2019/04/10/westwood-ones-rick-and-sasha-urban-ac-morning-show-adds-two-georgia-stations/]