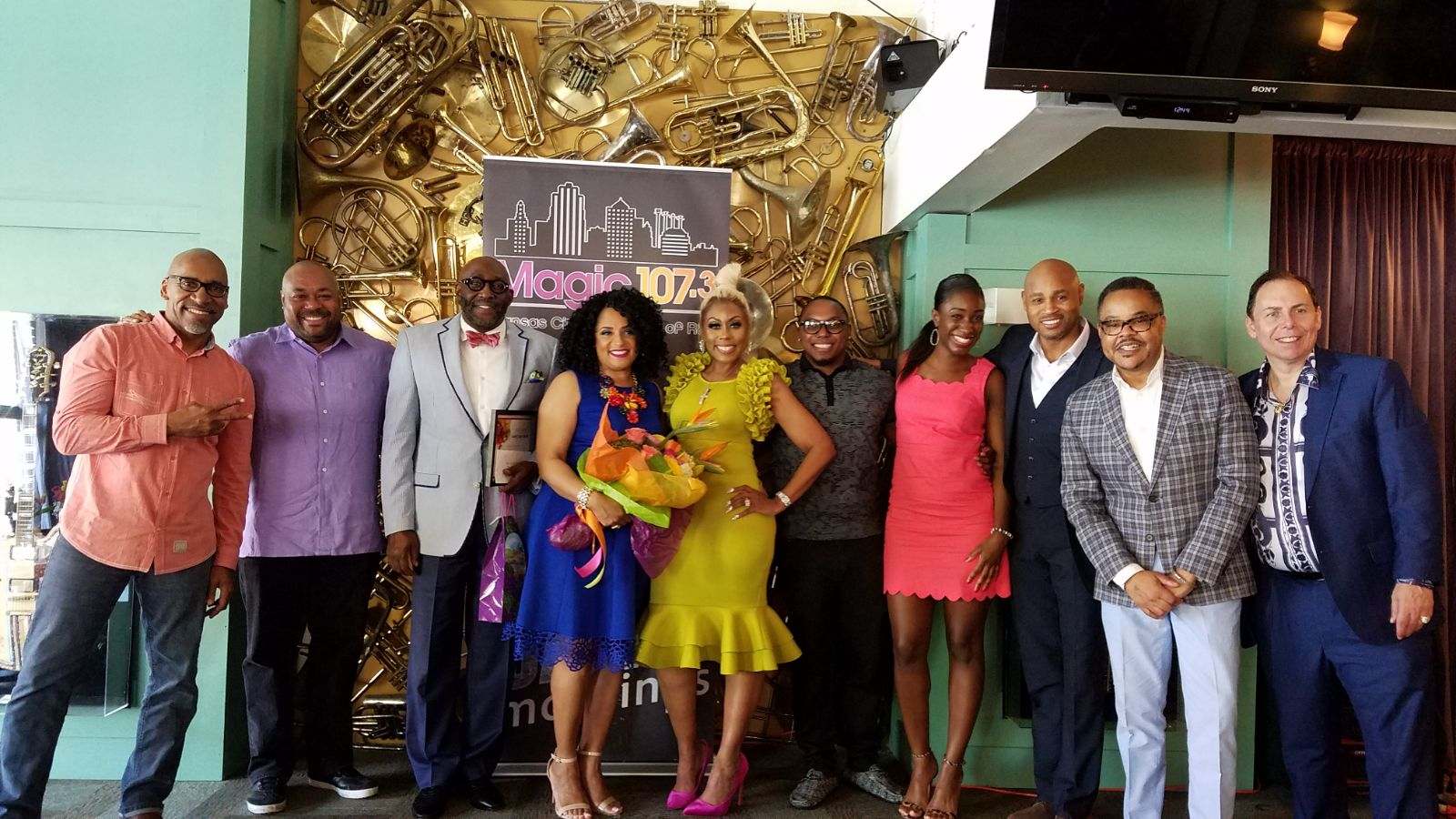 WESTWOOD ONE'S "RICK AND SASHA" TAKES OVER KANSAS CITY
NEW YORK, NY– May 7 2019 – Westwood One's Rick and Sasha, the fastest-growing Urban morning show, took over Kansas City this past weekend with two big KMJK/Magic 107.3 promotional events.
Rick Party and Sasha the Diva hosted the station's Saturday Night Groove Party at Harrah's VooDoo Lounge, where more than 1,000 fans waited in line to take part in Kansas City's biggest live dance party and to meet the city's new dynamic morning duo.
The on Sunday, Rick and Sasha's exclusive pre-Mother's Day Brunch at Bayou on the Vine honored Magic's Kansas City "Mother of the Year," Jessica McClellan.  Jessica is the Founder and President of Giving Hope & Help Inc. She's a survivor and advocate for domestic violence and sexual assault survivors, Al Payne, Program Director of Magic 107.3 says, "Rick and Sasha engage every single listener. They connect with fans and take it all the way home like no other morning show that I have ever seen before. It is no wonder they are already approaching the top 5, up from #12, with our core female listener!"
Rick and Sasha, which launched nationally on January 7, 2019, is taking the broadcast world by storm and is already the fastest launch of an Urban syndicated product in recent history. The program features two of the most popular Urban voices in the country — former Hot 105 FM/Miami personality Rick Party and former Kiss 104.1 FM/Atlanta personality Sasha the Diva. The duo entertains and engages Urban AC listeners looking for great music, hot conversation, a connection to community, and interactive discussions.
The morning radio show, which airs from 6 – 10 am ET/5 – 9 am CT, can be heard on more than 15 stations nationwide with more to come, including KMJK-FM/Kansas City, KMEZ-FM/New Orleans, WDLT-FM/Mobile, WRRX-FM/Pensacola, and WLXC-FM/Columbia, SC.
The program is offered both with and without music and is perfect for any Urban infused format including Urban AC, Classic Hip Hop, or Throwback, Urban Contemporary, or Gospel.
For more information on Rick and Sasha, contact Stuart Greenblatt at sgreenblatt@westwoodone.com or (212) 419-2946 or Gary Bernstein, gary@oceanic.such.website or (508) 245-1776.