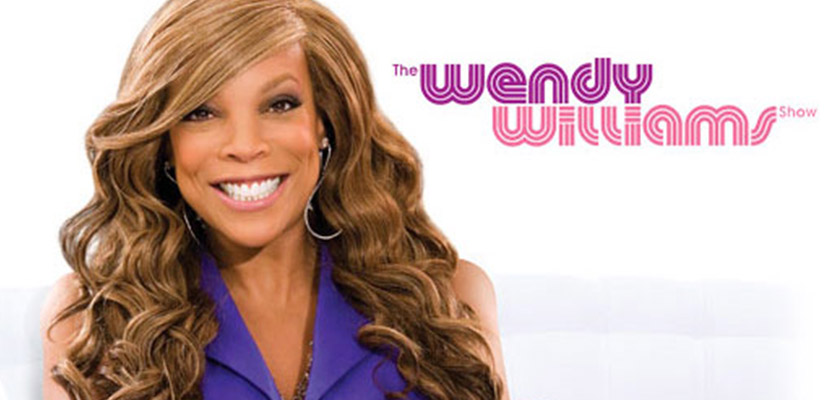 Wendy Williams Talks To Radio Facts About Return To Radio
Source: Kevin Ross of Radio Facts
This week I was told that I was handpicked to interview one of the industry's greatest success stories… Wendy Williams. I have met Wendy on several occasions but it was always in passing. The last time I was in her company was when she hosted the Billboard awards in Miami many years ago. I always respected Wendy's desire to be different and to avoid the cookie-cutter concept or the limited roles that are often assigned to us as radio jocks. Had she listened to the typical instruction of who she was supposed to be, she would have missed the mark and not been the star that she is.
We were taught to keep our mouth's shut and our ears open and to leave our fate in the hands of others. That is something that I have never believed in and it's always refreshing to come across, the often rare, someone else who did the same. it was a great pleasure to talk to Wendy yesterday and to get her perspectives on the industry and her growing success. She is incredibly humble, honest and grounded. Not an ounce of elitism or celebrity filled the air while I listened to her.
In addition, I was amazed by how much we think alike. She admitted that she has always felt like an enigma and out-of-place during her career and I can absolutely relate to that. As we get older, if we are lucky, we come to realize that is the warning signal for potential success. In order to be successful, you CAN'T be or think like everybody else and you won't "fit in."
I wanted to talk longer, but we were limited on our time; but she invited me to stop by the show when I visit NY soon and I'm sure we will sit down and have a greater conversation at that point. It is obvious that Wendy is real hungry to get back into radio and make a difference and radio needs her back!
KEVIN ROSS: Hi Wendy..
WENDY WILLIAMS: Hey Kevin, it's been a long time coming, thank you so much for the kind words…
KR: I'm very proud of you and happy to see that you are the one from our generation who took radio to a whole new level and I'm thrilled to be having a conversation with you about it. I am excited to report that you want to come back to a medium that is desperately in need of someone who is just plain entertaining and interesting.
WW: By the way the red tape is not that serious, we could have BEEN having this conversation (laughs)
KR: Well, I had a hard time reaching you. People in radio want me to have a conversation with you about the transition, how you did it, how they can do it and what it's like. What are some of the things that you learned from radio that helped to make the transition to TV easier?
WW: Partnering with Debmar-Mercury. I was in on every meeting on who we hired and staffing when the show started with the six week sneak peak. I needed that support Kevin because radio is just talking. When it comes to TV, it's about make-up, hair, eyelashes and wardrobe. Radio is different. So I could literally sit, and I have, with an artist for an hour or two in between playing songs. You know how it is Kevin. You play a song (or six) and they're in the other room with their people then they come back take phone calls answer questions etc. I needed to be rendered in because on TV an interview is approximately seven minutes and the BEST interview is only 10 minutes with Radio I had the luxury of talking longer, as long as the person enjoyed being my guest and was compelling. A floor manager, in TV, is very important, letting you know that you will be cut off in 2 minutes or 1 minute before a washing machine commercial comes on. So I guess the big challenge is getting my questions in and getting my guest's points in seven minutes.
KR: Were you aware at any time during your radio career that you would be where you are? Was it a goal?
WW: Noooo Kevin, I had a nice radio life. I'm very proud to be on top of the radio game, especially as a woman. I definitely understand the role that I play for the women who came behind me. I take that very seriously and it was absolutely an honor to be inducted into the National Radio Hall of Fame. There are not a lot of women there and it's where the Lone Ranger is and Jack Benny are… Remember radio goes back to once being the only entertainment in the country. To be in the company of Walter Wenchell and Hedda Hopper, the original gossipy people who had a significant role in radio…. Then you have The Tom Joyner's, The Howard Sterns and Rush Limbaughs but they are all men. Where are the boobs? I miss radio, it was my first love even before having a boyfriend.
KR: Wendy, you certainly had to know that you were very different during your radio days and that you were bringing something different to the table. What was the recipe that allowed you the freedom to do the kind of show that you REALLY wanted to do instead of being directed?
WW: I feel as though the way I speak. It was called 'being a white girl' when I was growing up. The way I speak enabled me to do more than urban radio but also Top 40 radio. I worked at WPLJ in New York. I could have worked at Z100 or Country, Hip Hop or Top 40. It was always the way I positioned myself. If you love radio, you love radio it's not mostly about the music it's more about the mic and the connection with people. I think a lot of times in urban radio particularly, it's "Yo, Yo, Yo!" Do you want to be pigeonholed into the "Yo, Yo, Yo" or do you want to fly? Like stop with the "Yo, Yo, Yo" and just say "Yo." It doesn't make you corny just to say "Yo" it makes you more marketable. My love of radio and the true craft and the understanding that it's not mostly about the music but more the connection and the people. That has been what's separated me from a lot of my counterparts.
"Well partnerships are very important, even if one has a lot more money and clout than the other. It's important for me to be received as a partner. I don't want to be an employee, I want to be a partner."
A lot of these kids coming up today… it's very fractured: "Yeah Wsup," who talks like that? I never saw the TV thing coming but I knew that if I stuck to what I felt as far as radio, I would be fine and I would be able to graduate to spinning 'Today's R&B and Classic hits…' or whatever they call it. In my mind, I thought I would continue doing radio and I was prepared to grow but I was not going to be in my 50s and saying "Yo, Yo, Yo."
As far at TV, it happened so fast Kevin. Within one year of meeting with Debmar-Mercury I was on TV. Within one year and two months, I was given the thumbs up for first season, and then the train just shot out of the station. Here we are about to start our 8th season and I can't believe it.
KR: Has your mind caught up with the concept yet or are you still pinching yourself?
WW: Um, I still pinch but my mind has caught up. Otherwise business would run awry.
KR: Are you one of those people who can't get radio out of your blood or do you feel that you still have so much more to offer now with your experience?
WW: Both. I love being on TV. It's a wonderful way to express yourself and entertain. But I find radio to be very creative. How you are able to tell a story like describing the color red that she was wearing and how she poked her right leg out of her dress and she put her left hand on her hip, and she swooshed her hair around. I LOVE telling a story but TV is not a storyteller, it gives it to you in your face with a sock in the eye. Radio is truly creative and only for masterful talkers.
KR: Why did you leave radio?
WW: . I wanted to devote my time to the talk show and family. I thought it would be selfish to do both. I wanted to bow out of radio gracefully so that I could always come back. Not as a struggle thing…
KR:… but on your own terms?
WW: Right. The talk show is renewed though 2020. I had an itch and a burn and a tick, I'd like to come back into the game and I'm looking for a partnership with a company where we could work really well together. I definitely have my opinions and I'm not afraid to express them but I also need partners that offer great advice. I want the mic.
KR: Of course you know the audience better than anyone else. Are you looking for a company that knows the audience as well as you do? Are you a research fan?
WW: Oh, what are you in my room right now? I research, I listen from AM to FM from SiriusXM all the way down. I LISTEN to radio . I'm looking for someone (a partnership) who understands my wants, I understand theirs and we come to a happy Kum bi Yah.
KR: Let's talk about partnerships. I'm sure you have learned over the years how important they are but for the readers can you talk a bit more about it?
WW: Well partnerships are very important, even if one has a lot more money and clout than the other. It's important for me to be received as a partner. I don't want to be an employee, I want to be a partner. That really comes down to conversation and a lots of meetings. If I can't be a partner than I don't want a part of it. For my TV show Debmar-Mercury and I are partners. If I wake up at 3AM and I have a thought, I know that I can call my partner and they answer the phone. I'm beyond thinking of myself as a girl who giggles and wiggles. I'm an executive producer on my own talk show. The partnership is strong between me and Debmar-Mercury, the partnership is strong between HSN and the clothing that I manufacture. So I've elevated a bit since radio. When I left radio, I was an employee. Now I want partnerships.
KR: At one point did you say to yourself, I'm more than an employee.
WW: Um, age is a factor, you become a certain age and you look around and I think about who's gonna take care of me as I get older. Who is gonna pay my bills. I was not raised with wealth. The seven and a half years of being on the TV has allowed me to become smarter. It helps to have a nice partner. My husband Kevin is a beast. My son Kevin is 15 somebody's gotta take care of all of this..
KR: And your son is watching you…
WW: YES and I want my boy to be proud of his mom and to do the best that he can to find a smart social circle.
KR: There are obviously some people who are looking to cash in on syndication. People like me and you are dedicated to the craft. Do you think the art of radio has been lost over the years and is that part of the reason you want to come back?
WW: I do think the art has been lost. I don't think it's because of a lack of talent. I think there are a lot of people who can do it, . I would love to talk to someone who offers flexibility. I don't think there is a lack of talent but a lack of permission to speak and be creative.
KR: Would you bring elements of TV to radio?
WW: Ironically, I brought elements of Radio to TV, I would circle back around. I was doing celebrity gossip from 50 Cent or Brad and Angelina to Suzanne Summers. I interview all kinds of people and that's the kind of radio show I would LOVE to do. I'm really open. I'm not afraid to embrace all my roots from Taylor Dayne to Madonna but I'm also a Hip Hop Head I have a 15 year old and I'm always asking him what he's listening to and we listen to the latest music together.
KR: How many hours do you work a day?
WW: I work from 5:30 to a 11AM on the show. I'm usually done around 1pm. A lot of the things I do is over the phone. I'm generally home around 1PM.
KR: How do you keep yourself grounded?
WW: I make my son's lunch everyday. I make sure my husband has dinner. I do these things to keep me grounded. I was invited to a soirée with A List people tonight but I opted to get a massage, come home instead and do this interview with you while sitting here in a robe.
KR: What advice would you give a girl entering the industry who can't find a mentor?
WW: As far as the girls who don't have a mentor. Neither did I. My parents didn't understand me. Girls who have no mentors have a better opportunity than I did. I have no idea how I got to where I am. When I was in my 20s, I was traveling from Washington to NY for my shift. My car breaks down at the Lincoln Tunnel at 9PM and I park, and walk through the tunnel alone leaving a note on my car for someone to call me (the days before social networks and cell phones) breathing in all those fumes but I made it to my shift on time.
KR: You separate yourself from the industry lifestyle, how do you do that.
WW: In my early 20s I would go to a lot of parties trying to find myself and I realized early on those events were not me. I went once then again and I realized it was just not me. I knew a long time ago that I had to separate my personal life from the industry. My code of armor is never have industry come to your home. Unless your arm is twisted behind your back and that' happened to me no more than a few times.
KR: So you have to know that it's a business…
WW: Yes. I know how to separate who I authentically am as Wendy from what the industry is. I can get out there and twerk and bump with the rest of em but when I come home I'm not brining you with me. I don't covet celebrity. In the beginning I always felt like an enigma. I knew I was popping on the radio. There was a time at 25 I had a syndicated radio show in Kobe, Japan and in Germany and I was number one in New York. I was taking no prisoners. That is like a head trip for a young person. I wanted to get into my own shell and keep people away from it. I always felt like people were trying to steal my (hot) sauce or get me caught up in scandal to dethrone me.
KR: Do you think you were right?
WW: ….Yes, I still live my life like that now.
After the interview was over, I genuinely felt like there was so much more to talk about. Wendy is incredibly interesting and she is truly one of the great communicators and entertainers. Her realness and honesty are matched only by her sense of humor and brilliance. So, it came as no surprise that when I asked Gary Bernstein about the demand for his famous client later that day, he paused and said "…you have no idea". I'm not surprised. We look forward to hearing Wendy on the air again.
Source: Kevin Ross of Radio Facts